Back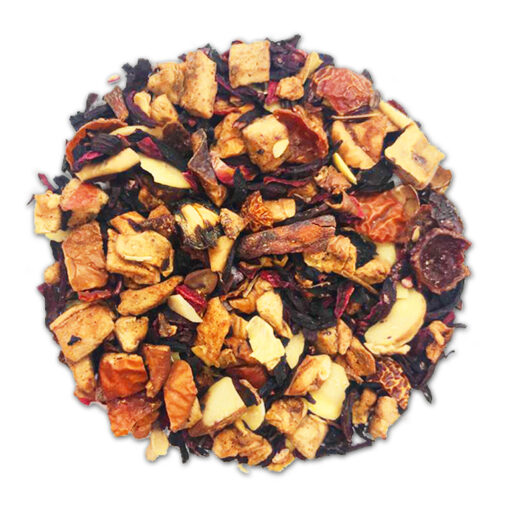 Everything Nuts
Ooh Ooh Ooh Ooh Aah Aah Aah Aah Go Nuts! Simple exquisite almond and hazelnut notes that make freshly dried fruit and hibiscus come alive!
DefiniTEAly a NutTEA tea!
In stock
Ingredients
Apple, Hibiscus, Rosehip, Cocoa bean, Almond pieces, Natural flavors
**Allergen Alert – Contains Almonds**
Historians believe that nuts were an important part of the human diet at the time, perhaps owing to the fact that they were transportable, roastable and delicious. Flash forward a few million years and nuts are everywhere. In practically every country, society and civilization, traditions around the eating of nuts have taken solid root. As part of this tradition, we've blended Everything Nuts to celebrate Mother Nature's hard shell. A nutty blend of almond and hazelnut notes rounded out with dried fruit and hibiscus, this is a tea anyone can love – Homo Sapiens, Homo Erectus, Cro Magnon, you name it. Go nuts!
| | |
| --- | --- |
| Weight | 60 g |
| extra-options | Caffeine Free, Flavored, Health, Iced, Kids, Popular, vegan |
| tea-type | Fruit, Herbal |
Additional Information
| | |
| --- | --- |
| | 3-5 min |
| | F 212 // C 100 |
| | 1.5 tsp per 8 oz cup |
| | 8 oz water |
| | Great for kids |
| | Iced is nice |
| | NO caffeine |
| | Canada |
You may also like…
Refreshingly rich and tangy, this herb and fruit tea is pungent with a bold taste of lime