Most Popular Tea In Summer?
Enjoy Tea All Summer Long With Summer Pie 
Just because the temperature is rising, doesn't mean you need to put your kettle away for the season. Dollar Tea Club offers a wide range of summer teas that are just as tasty as they are refreshing. The best tea for summer this season is Summer Pie tea. This caffeine free blend
  hits all the right notes, especially when it's served cold.
When you're in the mood for a summer tea with a rich berry flavor, this fruit tea has a strong flavor that's exceptionally delicious. While it's a treat on your tastebuds when it's served hot, it goes down much better when it's chilled. We recommend adding a hint of sugar or honey to sweeten this summer tea up. 
Why do we love a fruity summer tea? It's important to keep your body hydrated, and it's even more important in the summertime. When you're outside working or enjoying some fun in the sun, you're likely to get a lot thirstier and start to crave a refreshing beverage. While you could
go for a cold juice or soda, we feel like there are better options. Herbal iced tea is a much healthier choice because it doesn't need a lot of sugar or artificial flavors to taste delicious.
Most of our customers prefer using herbal teas to make iced tea, and fruit teas are proving to be the most popular choice. Our brewmaster wanted to create a fruit tea that tea drinkers could have fun with while making an iced herbal tea. While many people enjoy the beautiful flavors of this tea on it's own, it's the most exciting summer fruit tea to play around with. 
Loose Leaf Summer Tea
Now before getting too carried away with what you put in this tea, it's important to know that it does not mix well with milk because of the tart berries in the loose leaf summer tea. When this tea is hot, it tastes incredibly amazing with cinnamon sticks. Many people even enjoy bringing
this tea over to the winter season and steeping it with a few cloves.
However, once you get to Summer Pie cold tea ideas, there is so much to work with. Many tea drinkers love the way this herbal iced tea tastes when they add frozen fruit to their glass. While berries compliment this cold tea best, you don't have to stop there. This loose leaf iced tea is also tasty with frozen peaches or mangos. 
While this tart fruity summer tea doesn't need a lemon wedge to bring out it's flavor, some people enjoy adding a spring of sweet basil or mint to their herbal iced tea.
Summer Teas & Cocktails
A great summer tea can also be used to make a delicious cocktail. Are you a fan of sangria? Mix chilled Summer Pie tea with a wine of your choice. Throw in some fresh berries and apple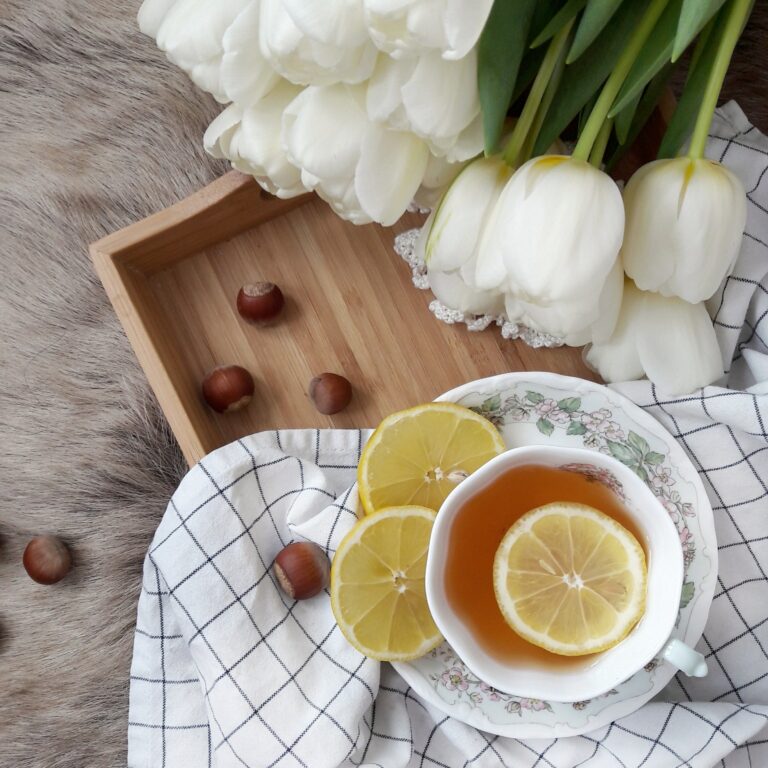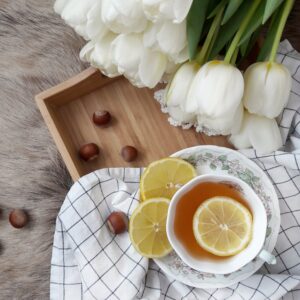 slices, and now you have a tasty drink to bring to a barbeque. This tasty sangria is also very refreshing, and people will be impressed that it's also low in calories. 
There are many different ways that you can enjoy Summer Pie tea in a cold tea cocktail. This iced fruit tea also tastes good when it's mixed with apple juice and a shot of rum. Don't forget to garnish this drink with an umbrella to set the summer mood.
What Is Summer Pie Tea?
Everyone needs a good herbal tea for summer. This burgundy colored tea was created for those who enjoy a deep berry flavor. It's a lot different from our other fruity teas because it has a much stronger and richer taste. We wanted to pair some of the most exquisite summer berries, such as currants and elderberries, with calming floral notes from hibiscus petals.
What you'll get in your cup is a fruity explosion that will keep you refreshed on the hottest days of summer. On top of that vivid berry taste, the drink itself is very Instagram worthy. The deep burgundy shade of this popular summer tea is unlike anything else we have in our shop. Its color is completely natural too!
The Perfect
Cup O
f Summer Pie
Since Summer Pie tea has a much stronger flavor profile than the other summer teas in our shop, we recommend not to let it steep for too long. The recommended steeping time is between 3 and 5 minutes, but if you are making iced tea you can let it steep for a little bit longer. However, if you allow the tea to steep for too long you may be left with a stronger
aroma that could take away from your enjoyment. 
Ideally you should mix 1.5 tsp of loose leaf with 8 ounces of water. However, if you are pouring the tea directly onto ice after it has steeped you may want to add 2 tsp of this loose leaf iced tea blend. This is because you will need a fair amount of ice to cool down the tea and most of it will end up melting, which will water down the flavor. 
One thing to keep in mind about this tea is that you will want to get the water to a specific temperature to get it steeped, but you don't want the water to be too hot or else it will burn the berries and hibiscus petals. The ideal water temperature should be 212 F (100C). 
Final Thoughts:
We can't stress enough how important it is to keep your body hydrated as those summer temperatures start to rise. The best way to stay hydrated is by making a refreshing glass of iced herbal tea with one of our popular fruity summer teas. One of our best choices this season is Summer Pie tea. When you want a herbal iced tea with a full berry taste, this is the right loose leaf mix for you.