Tea Popsicles
A Healthier Spin On Your Favorite Summer Treat
Beat The Heat This Season By Turning Your Favorite Loose Leaf Tea Into A Popsicle
On a hot summer's day, two of the most refreshing things are iced tea and popsicles. Why not
put them together as one? If your tea stash is overflowing, it's time to brew up a batch of tasty tea popsicle mix. 
What's so great about iced tea popsicles you might ask? Have you ever checked the ingredients on the box of store bought popsicles? There's a very good chance that if you aren't a scientist, you don't know what over half the ingredients are. Not only that, regular popsicles are full of sugar, artificial flavoring, and artificial colors. Those ingredients aren't doing any favors for your body.
Now check out the ingredients list on your favorite loose leaf tea blend. You probably know what every ingredient is, which makes tea popsicles even better. As long as you have a popsicle mold, you can make tea popsicles all summer. Let's take a look at how to make this refreshing treat.
How To Make Loose Leaf Tea Popsicles
It's time to clear some room in your freezer because once you try one of these iced tea popsicles, you will want to make batches with all of your favorite blends. Here is what you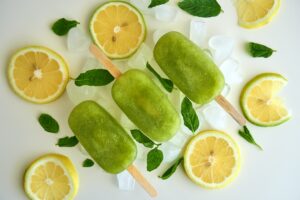 need to do to make tea popsicles:
Step 1: Brew Your Blend
At the Dollar Tea Club we offer a wide range of different teas to choose from. There's something for everyone, even people that think they don't enjoy tea can find a blend they enjoy. While many people enjoy choosing one of our fruit teas to make herbal popsicles, you can really make a delicious treat out of any type of tea you enjoy. 
Something important to keep in mind when brewing your tea for tea popsicles is that you will need to double the strength of your brew. With most of our teas, we recommend using 1.5 tsp of loose leaf with 8 oz of water. When you're making tea popsicles, you should use 3 tsp of loose leaf for every 8 oz of water. This will make sure you get the right amount of flavor in your popsicle.
Step 2: Sweeten Your Brew
While the tea is still hot, it's best to add your sweetener so it has a chance to dissolve. There's no exact measurement to how much of a sweetener you should add to your popsicles, this is really up to your own preferences. Some of the ingredients you could use to sweeten your tea are:
Sugar

Honey

Agave

Artificial Sweetener

Maple Syrup
Step 3: Decorate The Popsicles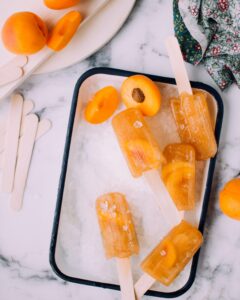 This step is completely optional, but it can add a tasty twist to your summer treats. Before you close the lids to your popsicle molds, why not add some other goodies into the mixture to add more flavor and a nice decorative look. 
A lot of people enjoy dicing up some of their favorite fruits to add to the popsicles. This is a really great way to add a fun look and more nutrients to your popsicles. Another great way to make a healthy treat is to blend pureed fruit into the tea mixture. Not only does it taste great, but also makes your treats a little bit more filling.
The fun doesn't stop with fruits either. Gummy candies are a fun way to add a touch of sweetness to these delicious treats. However, if you like to keep things simple, sometimes all you need is a touch of milk. One of our top selling tea, Everything Nuts, is a sweet herbal tea that's a vibrant pink color. When a splash of milk is added to the mix, it creates a very beautiful shade of pink and the creamier taste adds a delicious twist to the popsicle.
Step 4: Fill and Freeze
Once you have everything you need ready, fill up your popsicle molds and place them in the freezer. Allow them to set overnight in order to fully freeze. Don't try to take them out too early. Even if they look like they may be ready on the outside, the inside needs to be fully frozen before taking the tea popsicles out of the molds.
Best Teas For Tea Popsicles
There are so many great teas to choose from in our shop, and of course the best ones all
depend on your taste preferences. However, if you're not sure where to start, these are some of the best choices to make a delicious iced tea popsicle:
Best Black Tea Popsicles:
Amaretto Blush:

Enjoy the sweet taste of cherries and almonds in this black loose leaf tea blend. A splash of milk and a few diced cherries really compliment this black tea popsicle.
Cookies and Cream:

This childhood classic is now available as a tea. When you have a craving for cookies and cream ice cream, this blend will do the trick.
Wild Black Currant:

Everyone loves freshly picked currants in the summertime. When your in the mood for a rich and tangy tea popsicle, this black tea blend will hit the spot.
Best Green Tea Popsicles:
Cool Cucumber:

Do you enjoy watermelon? This green tea blend has refreshing cucumber pieces and a mild watermelon flavor. It's also one of the best flavors for incorporating different fruit pieces.
Blueberry Blast:

This refreshing blueberry green tea is one of our top sellers, and it's so good that your kids may eat them all before you get a chance to try them for yourself. 
Uncle Iroh:

There's something incredibly relaxing about this floral green tea blend. When you need a break to cool off on a hot day, Uncle Iroh will be there for you.
Best Herbal Tea Popsicles:
Everything Nuts:

This fan favorite tea blend is one of the best loose leaf teas for sweet tea popsicles. Tastes so closely to an ice cream treat that you may forget you're eating something healthy.
Morning Mist:

Cool off in the morning with a fruity herbal tea popsicle. This blend will give your taste buds a splash and help you wake up on a bright note.
Tangy Tang:

This is one herbal tea that just screams summer. The taste of a Tangy Tang popsicle will remind you of a day at the beach. It's also the perfect popsicle to cool off with when you get home from the beach.
Best Fruit Tea Popsicles:
Lime Gelato:

This tangy citrus tea is full of delicious flavor that is perfect for summer. When your mouth is feeling dry, this is the fruit tea to give it the refreshing kick that it needs.
Fruit Smoothie:

This sweet and slightly creamy blend is full of delicious fruit flavors that even non-tea drinkers enjoy. Fruit Smoothie tea has delicious pieces of cherries, bananas, oranges, and more.
Orange Creamsicle:

Just in time for popsicle season, we've released an Orange Creamsicle fruit tea blend. This sweet and creamy citrus blend will remind you of the classic summer treat, but without all the extra calories.
Final Thoughts:
When it's time to cool off, treat your body right with a hydrating tea popsicle. In our shop we have so many amazing custom blends, there's something for everyone to enjoy. If you're trying to cut back on how much sugar you consume but don't want to give up your favorite summer treats, tea popsicles are a perfect choice.