Jenny @forevermunchies made this Spiced Apple Chai Ice Cream using tea.
She shared her recipe step by step, so you can make your very own too!
See how she did it here ?
Spiced Chai Ice Cream
2 cups whipping cream (35% fat)
3 tbsp
Apple Pie
tea
2.5 tbsp
Masala Chai
 tea
3-4 tbsp hot water
1 can sweetened condensed milk
Spiced Apple Chai Ice Cream: No Churn Recipe
DIRECTIONS:
1. In small bowl, combine tea and hot water. Set aside.
2. Bring cream to a gentle boil in small pot over medium high heat – watch the pot to make sure it doesn't boil over! Stir in tea mixture.
3. Remove pot from heat and steep for 30-45 min, stirring occasionally.
4. Pour steeped cream through strainer to separate out the tea leaves. Use the back of a spoon to press more cream out of the tea leaves.
5. Chill the cream, covered, in fridge until the cream is cool – this may take a few hours or overnight.
6. Remove chilled cream from fridge and whip until soft. Fold in condensed milk making sure to knead it in well. Pour mixture into 9×5 loaf pan (or similar size), cover and freeze 4-5 hours until solid.
7. Scoop and serve!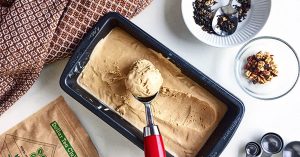 Love this ice cream tea recipe?
Get the ingredients at TheTeaClub.com
Don't forget to follow forevermunchies on Instagram for more great recipes.
About The Tea Club
The Tea Club offers monthly loose leaf tea subscription. We make the journey to explore the world of tea fun and affordable for everyone, and with plans starting at $1 everyone is guaran'tea-d to find something they love. With a shop that makes it easy to buy tea online and monthly tea subscriptions that are changeable anytime, we offer it all. Love a tea? Add a bigger pouch for next month. Tired of a blend? Remove it. With a shop full of tea, accessories, and $1 tea subscriptions with a No Contract, Cancel Anytime Guarantee we bet you can't think of a reason not to give us a sip.