Melissa at Ragsy_Pastries created these tea inspired cream puffs using our tea.
She shared her Peaches & Dream Cream Puff Recipe so you can make your very own too!
See how she did it here 👇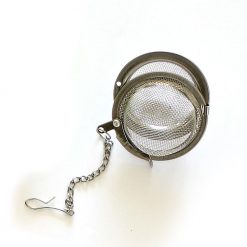 Our mesh tea infuser is made of food grade quality stainless steel material which is safe to use in both hot and cold water.  A classic tool for making loose leaf tea. Simply fill ball with desired amount of loose leaf tea, close tab, drop inside mug and add hot water. Wash by hand. Not [...]
Pastry Cream
4 tbsp Peaches & Dream Tea (23g)
2 cups Full Fat Milk (500 ml)
15g Unsalted Butter (1 Tbsp)
45g Granulated Sugar (2 1/2 Tbsp)
1 Vanilla Bean or 1/2 tsp. Vanilla Paste
4 Egg Yolks
Craquelin Top
2 Tbsp Unsalted Room Temp. Butter (30g)
2 Tbsp Dark Brown Sugar (30g)
2 Tbsp All Purpose Flour (30g)
Choux Pastry (Cream Puff)
1 Tbsp Granulated Sugar (15g)
1/2 cup Water (125ml)
1/4 cup Unsalted Butter (60g)
1/2 cup All Purpose Flour 75g
2 Eggs (approx)
Pastry Cream
4 tbsp Peaches & Dream Tea (23g)
2 cups Full Fat Milk (500 ml)
15g Unsalted Butter (1 Tbsp)
45g Granulated Sugar (2 1/2 Tbsp)
1 Vanilla Bean or 1/2 tsp. Vanilla Paste
4 Egg Yolks
Choux Pastry (Cream Puff)
1 Tbsp Granulated Sugar (15g)
1/2 cup Water (125ml)
1/4 cup Unsalted Butter (60g)
1/2 cup All Purpose Flour 75g
2 Eggs (approx)
Craquelin Top
2 Tbsp Unsalted Room Temp. Butter (30g)
2 Tbsp Dark Brown Sugar (30g)
2 Tbsp All Purpose Flour (30g)
Peaches & Dream Cream Puffs: STEP BY STEP RECIPE
Pastry Cream Directions
1. Place
Peaches & Dream
loose leaf tea in an infuser, strainer, or filter bag.
2. If using vanilla bean, cut a slit along the side to expose insides.
3. In a medium saucepan, combine tea (in infuser), milk, and split vanilla bean. Set to low heat and let infuse for 8 minutes without boiling the milk.
4. In a separate large bowl, whisk egg yolks and sugar until foamy. Sift in cornstarch and mix until combined.
5. Remove tea from warm milk mixture. Next, pull out your vanilla bean and scrape the insides back into the milk mixture.
6. Very slowly, pour milk into the sugary eggs while continually whisking. Don't go too fast or your eggs will begin to cook! Place mixture back into saucepan on low heat.
7. Whisk until cream starts to thicken. Once it starts to boil, keep whisking for another 20 seconds before removing from heat.
8. Add butter and mix until combined. Let cool for a few minutes.
9. Place in a container and cover the surface of cream with plastic wrap to prevent a film. Place in the fridge for at least an hour prior to piping puffs.

Craquelin Topping Directions

1. In a small bowl, mix room temp. butter (must be very soft) and brown sugar until completely smooth.
2. Add in the flour and combine until a creamy paste is formed.
3. Place your dough between two sheets of parchment and use a rolling pin to gently flatten it until the paste is very thin and even (about 1 1/2mm tall).
4. Place in the freezer for a minimum or 45 minutes.
Choux Pastry Directions

1. Preheat your oven to 350 degrees Fahrenheit.
2. In a saucepan, place sugar, water, and butter, and set to medium heat. Let the butter and sugar completely dissolve before turning off heat.
3. Add in flour and mix in completely.
4. Turn the pan back on medium heat and flatten the mixture as much as possible. Let dehydrate for several minutes, mix, re-flatten, and then let sit for several more minutes (careful not to over cook by browning). Once a dryer dough has formed, remove from burner.
5. Place dough in a stand-mixer and turn on low. Let run for several minutes until there's no steam but it's still warm to touch. After the dough has cooled down a bit, slowly pour in the yolks. Stop just short of adding all of them in and check your dough. If it's shiny and thin enough to make a "C" on your paddle attachment when held up then it's ready. If not, add the rest of your eggs in to thin a little more.
6. Pipe choux mixture into 2 inch circles on a parchment lined sheet pan. (I used a Wilson round tip #1A)
7. Pull out craquelin from the freezer and cut out a circle roughly the same size as your piped puffs. Using an offset spatula, transfer a circle on top of each one.
8. Bake for 20 minutes and then crack the oven door to let out steam. Close the door and continue baking for another 15-20 minutes or until they're a nice golden color.
9. Let cool completely prior to piping. When ready, pipe tea cream into each puff using a filling tip (I used Wilton tip #230). Once filled, top with prefered decoration such as sifted confectioners sugar or dipped in chocolate.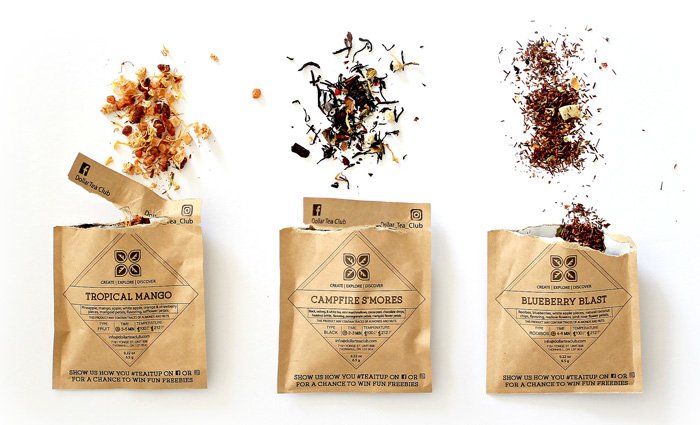 Try 3 New Blends, Every Month… For $1.
Start Here
Follow us for recipes, tea blogs & more: