Tea & Food – A simple pairing guide so you can be pairing tea like a boss
When it comes to pairing tea blends with food, a little knowledge goes a long way. Pairing tea flavors is a skill that anyone can learn and will definitely add to any and all dining experiences. Learning how to deliciously pair your favorite meals with tea is like learning how to pair a fine wine with a meal or finding the "right" perfume or cologne for yourself.
There are many varieties of tea and it is amazing to know that most of these types come from the same plant. The only differences in these types of teas are where they grown, how they are harvested, and how they are prepared for brewing. All these tiny details determine the flavor and aroma that make up every different blend of tea.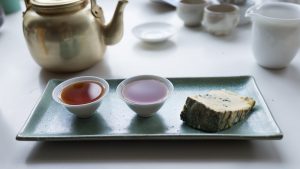 The Power of Organic Sencha Tea

Sencha tea is a very peculiar type of tea. It is often the one most people can easily recognize in flavor since it can be found at many Chinese and Japanese restaurants across North America. This teas versatility and power lies within how it is brewed. The temperature and time used to brew this lovely pale yellow-green tea will determine it's strength and flavor.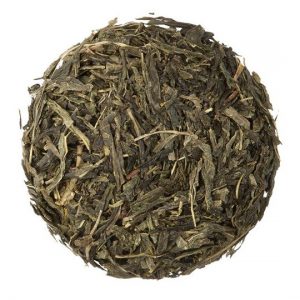 This makes Organic Sencha the perfect tea for many tea food pairings!
Other Notable Tea Food Pairings
While Sencha may reign supreme in tea food pairings, there are other blends that may be preferred to fine tune a specific meal or bring out a particular flavor or aroma in your dish. Here you will see how each tea fairs and pairs to different types of food.
Traditional Green Tea Pairings
Green tea is one of the most well-known types of tea and packs the most caffeine due to how it is picked and prepared. Depending on where this tea is grown will often determine what sort of flavor you can expect. Gunpowder green tea is a hand-rolled tea that is known for it's bold, wood-barrel-smoky flavor, and pairs excellently with BBQ dinners.
Herbal/Earthy: These are the types that give off a grassy flavor and are often associated as traditional Japan blends. These types of green tea are best paired with seafood thanks to the slightly bitter aftertaste.
Fruity: These green teas offer a light fruity flavor and are often grown in China, Japan, or Sri Lanka, and then blended with fresh fruits to give them flavor. The best tea food pairing for fruity green tea are chicken, turkey, unsweetened pastries, paninis, wholewheat bread, fruit salads, sandwiches and more. The Sir Lankan variety is what is called Ceylon tea and can be found in most modern kitchens. While Fruity green teas are great for pairing they are often a popular choice on their own, as they are a delicious regardless of whether served with food or not. You can find some delicious fruit blends here.
Smoky flavors: These are teas most associated with China. They offer a smoky strong flavor and make great tea food pairings with pan-fried chicken, turkey, potatoes, stir-fry, and pizzas that have root vegetable toppings. Gunpowder green tea is a type of smoky green tea.

Earthly Pu-erh Tea Pairings

If you are looking for something that gives you a wonderful earthy flavor and pairs well with your favorite stir-fry or chicken dish, then this tea is the one for you! Pu-erh tea is perfect for neutralizing oil and greasy food dishes while giving you a wonderful tasting tea. The other benefit is within its ability to help digestion after large meals.
So if you are looking to help your body lose fat, can't stand the taste of green tea or are wanting to counter that greasy chicken dinner, consider Pu-erh the way to go.
Aromatic Oolong Tea Pairings

A lovely variety of tea that is a golden medium between black and green tea. These teas complete the middle section of the spectrum of tea flavors and aromas. This tea can act as the Gemini of the tea types with its dual qualities.
Dark: The darker end of the spectrum of Oolong may resemble black tea but still retain its own unique smokey and dark flavor. They make the best tea food pairings with medium-rare to rare meats, pastries, pancakes, real maple syrup, fried and baked light meats, and endless lists of desserts.
Light: The lighter floral counterpart to dark Oolong. Light and slightly sweet or salty foods are recommended with this variety of teas. Anything else would overwhelm the natural aroma and flavor of this sweet tea.
Side note: It is said that Oolongs are made to be re-steeped, and most enthusiasts will go as far as to say that the best cup of Oolong is the one made with the second steeping.
Classic Black Tea Pairings

The dark cousin of green tea that can be found in many tea drinking traditions worldwide. Ranging from dark sugary brews to light brown delights, black tea is a widely used tea for a various tea food pairings. The Earl grey blend would be one of the more iconic black teas.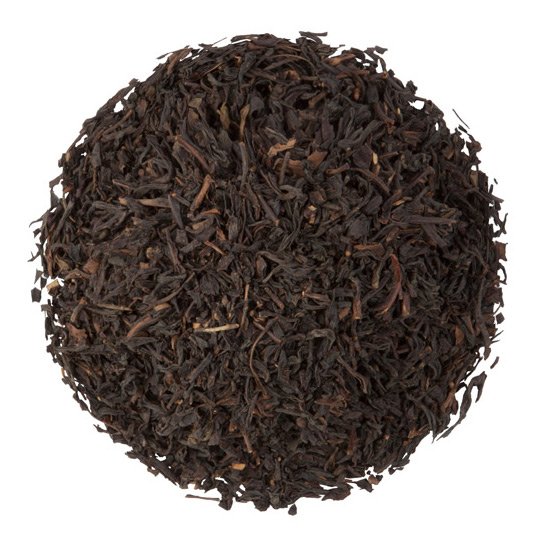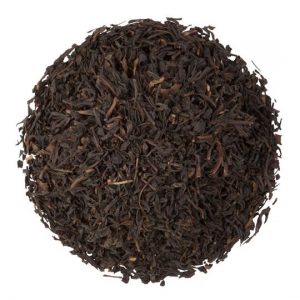 Smoky: these are the types of teas that tea connoisseurs and intense food lovers will enjoy most. They offer the darkest and strongest of all the tea flavors and are typically from China. They don't pair well with light foods but are great for dark meats and those that have been marinated with flavorful marinades.
These sorts of tea can definitely compliment a wonderful dark chocolate cake.
Fruity: these are the teas we often associate with flavored tea. They come primarily from India and Sri Lanka. This is what one could call the perfect dessert tea since its main tea food pairings are sweet, flavorful desserts of all kinds.
Malted and earthy: whether it be the well-known Yunnan tea from Yunnan province, China, malted teas from India or the deep earthy African teas, they are all welcome to any table. This tea makes the best tea food pairings with jerked flavored foods, dark meats, sugary desserts, blackened meat, vegetables, and more.
Delicate White Tea Pairings
The simplest and most delicate of the tea varieties with a light peachy and sweet taste. White tea can be considered one of the hardest types of tea to make a tea food pairing with. It is mainly paired with basic salads that do not include most fruits, dressing or anything else beyond lush verdant greens.
Since this lovely tea is so hard to pair well with food, it is often recommended for people to drink it by itself or eat it with melons and peaches. If you are looking for a light sweet tea with a floral aroma, then the white tea will definitely be the one to try for your next cup.