Novel TEA Socks: Your New Favorite Accessory
Keep Your Toes Cozy While Sipping On Your Favorite Loose Leaf Blend
Tea and warm socks can make almost any introvert happy. Nothing beats warming up by the fireplace on a snowy day with a mug of steaming hot tea in your hands, and cozy socks wrapped around your toes. It's no secret that tea and socks are the most essential items for getting through winter storms. The Tea Club knows how well tea and socks go together, their relationship is similar to that of movies and popcorn. That's why we decided to add NovelTEA socks to our shop. One of the greatest things about tea is that it warms up the body. The tea may warm you up but the tea sock will keep you warm, even on the coldest days.
Stay Cozy All Winter Long In Tea Socks
One of the best things about winter is snow days. It doesn't matter how old a person gets, it still makes them feel like a kid again when old man winter cancels their plans for the day. These days are meant to be spent being warm and cozy. If you don't have the right gear, snow days may not be so comforting.
When the wind starts howling, that means it's time to turn on the kettle and get out your most comforting blend of loose leaf. (We suggest Hot Tamales tea for days like these, this cinnamon green tea instantly warms up the body and soul.) It's the perfect time to curl up by the fireplace and pick out a good book or movie. The only thing needed to complete this perfect scenario is a toasty pair of socks.
Regular crew socks are too basic for us at the Tea Club. We like to have fun with our fashion choices, and our socks are no different. That's why we've added NovelTEA socks to our shop, so you can stay warm while expressing their love of tea.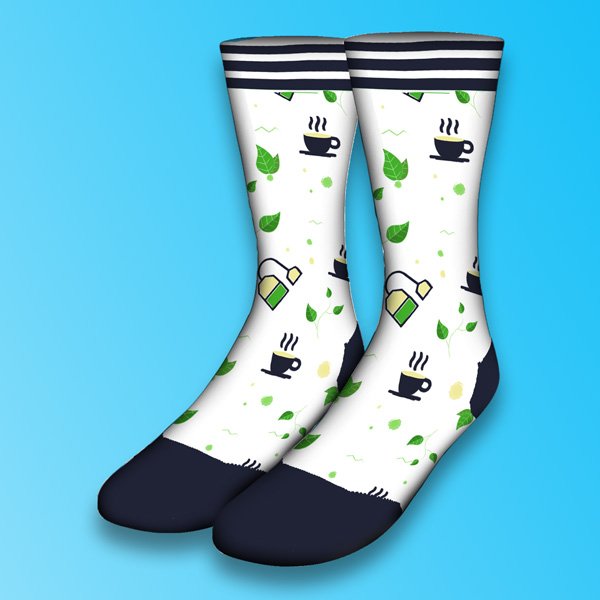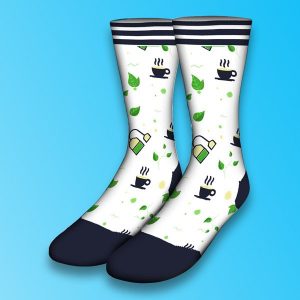 Why Novel TEA Socks Are So Special To Us
NovelTEA socks are more than just about expressing our love of tea. Everyone needs socks, especially during the colder months. Most of the socks in our shop were designed by Toronto artists. We believe in supporting local artists, and these socks are one way to show off their designs.
So, by keeping your feet warm in tea socks you're not only representing your favorite beverage, but also helping local talent establish their art careers. Whether the socks are for you or a gift for a fellow tea lover, this is one purchase you can feel good about making.
Stylish Tea Sock Designs
Food is becoming more popular than ever in the world of fashion lately. Everywhere you go you see people sporting clothes with their favorite snacks and drinks on them. The pink strawberry dress was one of last year's most talked about outfits. Everything from t-shirts, to hats, to swimwear is covered in food themed prints. 
This trend is something we can get behind, we've always been fashion forward and know that food and beverages never go out of style. If you're going to wear a t-shirt with cupcakes on them, why not make sure you compliment it with tea socks? Everyone knows cupcakes taste better when you have a cup of tea to wash it down.
One of the more popular designs allows you to kick your feet up and let the socks tell people what you really want. "If You Can Read This Bring Me Tea". Every tea lover knows this is the real message to get across to their housemates. 
Put the "If you can read this" socks on your right foot and the "bring me tea" socks on your left, and wait for people to catch on. If they really love you there will be a warm mug in your hands soon.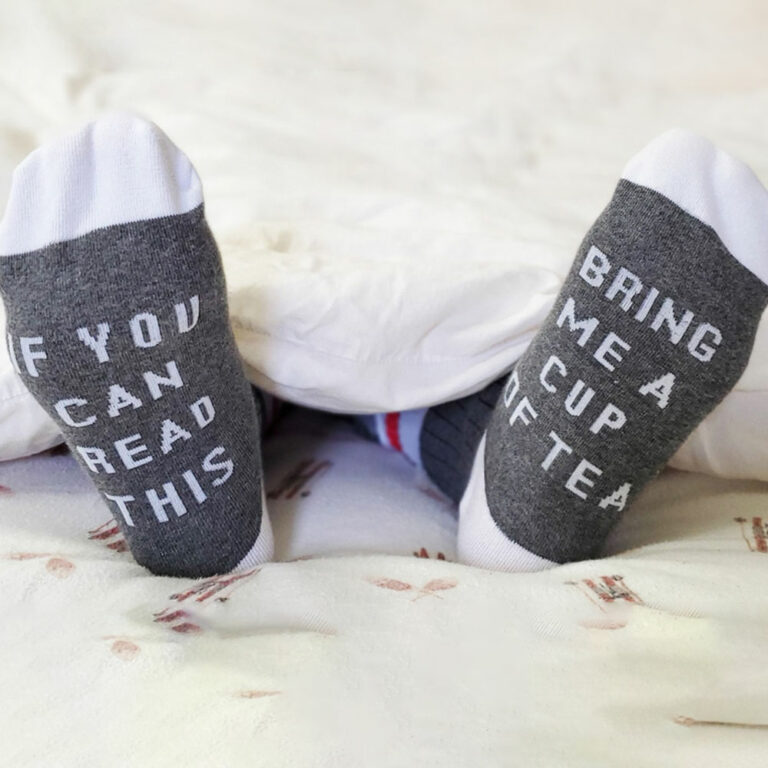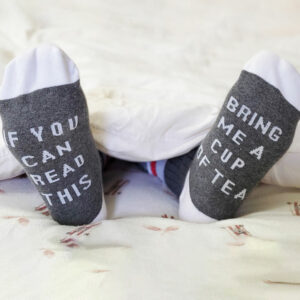 NovelTEA Socks Are More Comfortable
These socks are made with combed cotton and spandex to ensure they are comfortable and breathable. You won't have to worry about your toes getting cold when you have your NovelTEA socks on. When you put these socks on your loved ones will know that you mean tea business.
We love this cozy way of getting the message across. Can you think of a better way to tell someone what you want without having to speak?
Give Me Tea and Give Me Socks: How To Get Novel TEA Socks
Want to get your feet into a pair of these cozy NovelTEA socks? Head on over to the Tea Club shop and check under accessories. These sock are a must-have item on every tea lover's list, so items tend to sell out fast. If you see something you like it's a good idea to buy it before it's gone. 
Real tea lovers need every NovelTEA sock design in their wardrobe. Plain socks are too boring, time to jump on the food and beverage fashion trend and start representing your favorite beverage! Show everyone what your favorite beverage is, it could work out in your favor and someone may surprise you with one!