Make a Mind Refreshing Perfect Iced Tea 
Loose Leaf Iced Tea.
Perfect Iced Tea is a form of cold tea. There's no better feeling than chugging down a chilled iced tea after coming back from a hot sunny day. It instantly lifts off your stress and fatigue and makes your mood pleasant and
refreshing. But wait, there's more, consuming a glass of iced tea offers you several other benefits that maybe you don't know about.

Tea is rich in antioxidants and minerals, which helps you reach the daily nutrients your body needs. While a cold cup of iced tea is a great way to quench that summer thirst, adding sugar/sweeteners can take away the many benefits of Iced Tea. The number of calories a store-bought iced tea has is never good for your system.   
Is Perfect Iced Tea Good For You
Iced Tea Benefits
Drinking iced tea can offer you the following given benefits:
Relief from Stress
Tea has been there for ages, and according to various research, it is an excellent stress buster. Consuming tea has been known to lower your anxiety levels and therefore helps reduce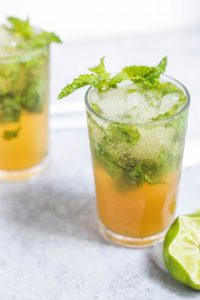 stress and stay calm. 
Boosts your Metabolism
Drinking iced tea significantly raises the metabolism level of the body. Iced tea consists of a large amount of magnesium that is known for strengthening your bones and is extremely helpful for digestion as it hugely enhances your metabolism. 
Improved Heart Health
Did you know that regular consumption of iced can actually be beneficial for your heart? People who have at least one glass of iced tea on a daily basis are less prone to heart diseases than others.  
Prevents Ageing
Want to know a fact that will blow your mind? Iced tea consists of ten times more polyphenol antioxidants than vegetables and fruits. These antioxidants in our body are helpful in neutralizing free radicals. They also repair the damaged cells more effectively and also boost collagen production. 
How to Make Loose Leaf Iced Tea
Perfect Iced Tea
Making your own iced tea is always better than buying a sugar-filled tea from a commercial store. The process of making iced tea is so simple that once you make it yourself, you won't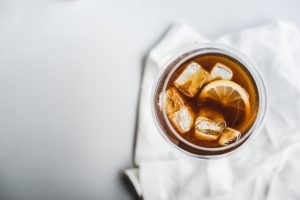 want to buy it from a store again! So let's proceed further and start with the process of making iced tea at home. Iced tea is a form of cold tea.

Foremostly, check out the ingredients that you will need to make iced tea from your recipe of choice. You can start by using any type of tea. If you feel like having a classic taste of the ice tea, go for bold black tea. To have something mellow, try out jasmine green tea.
Other than that, you need to have a pitcher of 2 quarts or larger, tea leaves or bags, a sweetener such as honey, sugar, or maple syrup and water. 
Loose Leaf Iced Tea Recipe
The process of making iced tea goes as follows:
Step 1
Take a pot and boil three to four cups of plain water in it. You can check the tea packet for details on the suitable temperature to heat the water.  
Step 2
Add eight to ten teaspoons of loose tea in the pitcher. Then pour in hot water in it. Wait for some time for the tea leaves to settle in the hot water.  
Step 3
With the help of a strainer, remove all the tea leaves from the pitcher and add sweetener of your choice. You can limit its quantity depending upon your personal taste. Remember, the low consumption of sweeteners is always good for health. Stir well.
Step 4
Store it in a refrigerator until the drink gets cold. 
Step 5
Add ice to the pitcher allowing some free space at the top of the pitcher to shake. Shake for a minute or until ice starts melting down in the pitcher. Use a quality-built pitcher for the purpose that is efficient in handling different types of drinks. 
Step 6
Serve and enjoy the refreshing taste of iced tea. 
Tips to Make an Ideal Iced Tea
Though there are no fixed rules or a single process to make the ideal iced tea, the given tips will be beneficial for you to make a delicious iced tea for you and your friends.  
Always Add Sweetener Before Adding Ice  
Make sure to add the sweetener in the beverage at a time when the drink is hot. The warmness of the drink dissolves the sweetener more efficiently and gives it a better overall taste. 
Bring it to a Room Temperature Before Cooling the Drink
After you have made the tea in the pitcher, it will still be hot. So it's recommended not to store
the tea in the refrigerators until it gets completely cooled down. Warm tea, when kept in the fridge, usually makes the tea clouded.    
Use Strong Tea Types
Picking the type of tea is totally dependent on your personal preferences, but we recommend a darker tea. It generally will add a strong flavor to the beverage and typically more efficient for making iced tea.  
Keep Same Steep Time for More Tea Leaves
A common mistake that most people usually do is that in order to make the iced tea strong, they exceed the steep time for the tea leaves to settle in water. However, the tea containing tannins, waiting for too long in the water, makes the drink bitter in taste. You can add extra tea leaves for making iced tea more concentrated if you like it strong. 
Wrapping Up
Ice tea is a perfect drink for the summer, and when you are making it yourself, the fun gets doubled. You can make it to fit what you enjoy and not only get an awesome flavors but also awesome health benefits as well. 
We've got some great loose leaf teas that would be delicious in a perfect cup of iced tea! Check out the links to our site below.