Loose-leaf tea has more than just one taste, and just like wine, there are many varieties of tea! So, what does this mean exactly? Just like you would pair different wines with different meals, different blends of tea will taste better with certain types of food. Let's take a look at some varieties of loose-leaf tea that are offered at Dollar Tea Club and a variety of food pairings to eat with them.
Black Tea
Black tea seems like a great breakfast tea, especially if English Breakfast is the first black tea that crosses your mind. And while it does make a fantastic breakfast tea, black tea can also be enjoyed with heartier meals at lunch and dinner. It may surprise you, but black tea pairs very nicely with poultry and red meat such as beef and game. Black tea typically produces and strong and full-bodied taste, which is why it pairs so nicely with heavier and heartier meals.
If you're more interested in desserts pairings (don't worry, we feel you), black tea goes well with milk chocolate flavors. Whether you're snacking on a chocolate bar or baking a cake, you can enjoy your dessert with a cup of black tea!
Recommendations:
Assam Organic & Tea Marinated Steak
Almond Biscotti & Milk Chocolate Lava Cake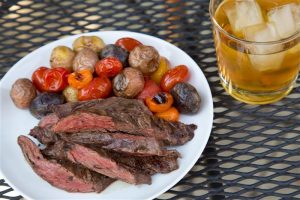 Green Tea
If you're go-to favorite tea isn't black tea, we've got more suggestions for you! For green tea-lovers, your best bet for a tasty food pairing is seafood, chicken, or vegetables (or all of them at once if that floats your boat?). Because green tea is more on the mild side flavor-wise, it goes best with foods that also have a mild flavor. Rather than a bold, spicy steak, you'll want to opt for a nice salad or piece of fish.
Of course, we've also got dessert pairings for you! Green tea pairs very nicely with desserts on the lighter side. Desserts such as vanilla ice cream, meringue, and even white chocolate will taste even more delicious with a cup of green tea.
Recommendations:
Gunpowder & Green Tea Poached Chicken and Rice
Tarzan & Jane & Green Tea Roasted Salmon
Strawberry Shortcake & Strawberry Shortcake (see what we did there?)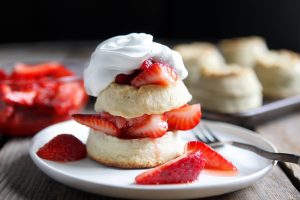 Herbal Tea
We know that not everyone enjoys caffeinated beverages, so we've got some food pairings for those of you that love herbal tea blends, too! Herbal tea doesn't have as strong of a taste as black or green tea, so it pairs nicely with a lot of different foods. Due to the natural flavors and botanicals in herbal teas, a cup of hot or iced herbal tea will almost always pair nicely with a salad or vegetables. If you're looking for a dish that contains meat or protein, you'll want to stay away from red meat and stick to fresh seafood or tofu.
For desserts, herbal tea will pair nicely with dishes that are a little less sweet and a little more tart. Desserts such as lemon bars, fruit tarts, or zucchini bread will taste fantastic with your favorite herbal teas!
Recommendations:  
Although certain teas supposedly taste better with certain types of food, don't let that stop you from drinking your favorite herbal loose-leaf tea with a hearty piece of meat or your favorite black tea with a salad. Let's be comple-tea-ly honest; tea goes well with almost anything. Next time you're planning your lunch or dinner, you might think about what tea you'll pair with it! And if you're not sure what you want to drink, think about a subscription to Dollar Tea Club. We'll send you three samples of some of our favorite loose-leaf tea blends- for only $1 per month!