The talented recipe developer Sandra Lesniak and her blog, The Goodness Glow, created a stellar tea smoothie (smoo-tea) with a popular Dollar Tea Club tea that will no doubt spice up your summer, giving you an adventure for the tastebuds. It has the perfect combination of veggies, fruits, and one of our best-selling green teas. How can you say no to a smoo-tea?
The Tarzan and Jane Tea Smoothie
by The Goodness Glow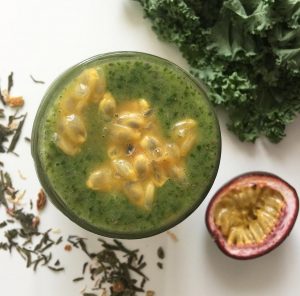 Ingredients
Handful of green lettuce
Handful of chopped kale
1 frozen banana
1 frozen small pear
1/2 fresh mango
1/2 cup orange mango juice
1 tbsp chia seeds
1 brewed & cooled cup of Tarzan & Jane tea from Dollar Tea Club
Top with passion fruit
Blend well! This makes 2 mason jar smoo-teas.
Drink this smoo-tea when you feel the need for an adventure.
Whether you're relaxing on a poolside or going on an exotic island tour, this fast and affordable DIY smoo-tea will make you feel #adventurevibes.
Get Tarzan & Jane from Dollar Tea Club's Tea Shop and check out The Goodness Glow's other recipes on Instagram while you're at it.