5 Teas That Will Have You Stop Drinking Coffee
Are you someone who resonates with the adage, "I orchestrate my morning to the time of Coffee"? Well, how about replacing coffee with tea? You must be thinking; I will never quit drinking coffee.Green tea is very effective for weight loss. Wait till you read what we have to say. Espresso, latte, mocha, cappuccino, or any other variety of coffee is nothing short of a paradise for caffeine lovers. However, do you know that many scrumptious teas can also address your daily dose of instant energy?
Yeah, there are a plethora of alternatives to coffee that you can try. Did you know, the overconsumption of coffee can affect your health. If you have anxiety issues or any of your friends have it, you all need these teas. They are better alternatives to coffee, let's explore some  teas that you can try and even refer to your friends. 
5 Best Teas for Coffee Drinkers
Here are some of the best teas that will be an ideal replacement for all the coffee-obsessed people.
Oolong Tea
Da Hong Pao
The Da Hong Pao is one of the best teas on the list that will fuel up your senses like a charged bull. Yeah! Try not to hit anybody. Not only will the Da Hong Pao tea make you feel energetic, but it will also provide you a number of health benefits.
Da Hong Pao tea, aka Oolong tea, is only grown in the Wuyi mountains of China. Due to its origin, it is highly popular in the country. The tea leaves are long, dark, and twisted; if you brew these in water, you will get a gorgeous red liquor.
Oolong tea has a smooth and soft taste with a woody aroma. Since the Oolong tea is roasted, it will surely be a surprise for you and your coffee drinking friends. Oolong tea provides various health benefits like:
Weight loss

Skin benefits

Enhancing brain power
And many more!
We have two varieties of Oolong tea! All of our teas are loose leaf tea. Use this link to check them out!
Loose Leaf Black Tea
Assamese Black Tea
It is said that a person feels freshest in the morning? Well, wait till you have a sip of the Assamese Black Tea, then we can talk about it. 
The Assamese black tea is a perfect energy booster for you in the morning. Its bold black color and malty flavor will give you a perfect head start for the day.
Grown in the northeastern Indian state of Assam, these Black Tea leaves are produced through a unique process. This unique production process is the sole reason behind its rich, savory aroma, and high caffeine.
If you use milk and sugar in your coffee, then Assam Black Tea will be the ideal choice for you. The tea mixes with milk very well, and the milk can even enhance the flavor of your tea.
Health benefits of Assamese Black Tea:
Promote heart health

Supports immunity

Enhances brain health
We have so many types of Black Teas, 2 pages worth listed on our online tea shop! Check out our varieties of Black Teas here.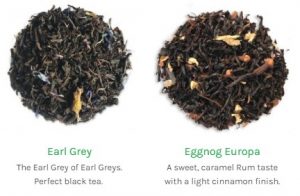 Organic Green Tea
Hojicha
Do you feel the need to hunt for coffee in the middle of the day? If you do, check out the Hojicha green tea that is the perfect replacement for your minimal caffeine needs. Green tea is not actually of green color, but it has all the attributes of that.
This Japanese tea is roasted, which makes it brown in color. Its leaves provide you a taste that is:
We need to drink green tea for weight loss. If you like lattes and cappuccinos, then the Hojicha tea will be an awesome addition to your regime. And the addition of frothed milk to the tea will be a cherry on the cake.
Yerba Mate
(Roasted)
Did you know that drinking too much coffee can turn you into an overly anxious being? But drinking a moderate amount of tea is good for health. Introducing (drum rolls), Yerba Mate Tea. 
Yerba Mate tea can easily overpower the effect of coffee, which makes it an awesome choice for you and your coffee-obsessed friend. This tea does not involve any tea plant. However, it contains relatively less caffeine than coffee.
Yerba Mate is grown and processed in South America. If you choose to consume Yerba Mate, make sure that you go for the roasted type, as it is the ideal alternative to coffee. The Yerba Mate tea has a smooth and nutty undertone.
If we talk about the health benefits of Yerba Mate tea, there are endless benefits to it. Some of the primary ones are:
Yerba Mate is rich in antioxidants and nutrients.

It can help build your focus and also boost energy.

Yerba Mate can protect you against infections.

It can highly boost your immune system.

The tea can reduce the risk of heart disease.
As there are plenty of health benefits of Yerba Mate it is also a great replacement for coffee. This will be the best thing to offer to your coffee-obsessed friend.
Russian Caravan Tea
How about a mixture of teas over coffee? It may sound weird, but the Russian Caravan is a great option for you to try if you want to ditch coffee for a better option. The Russian Caravan tea
is a blend of Oolong tea and two types of Chinese teas named as:
The inclusion of the two Chinese teas provides a strong and mild smoky character to the Russian Caravan. Moreover, the tea will be ideal for those who are fond of consuming a heavy and dark cup of coffee.
The unique thing about the Russian Caravan is the balance between the Chinese teas and Oolong tea. The tea is strong, but it is not so overpowering.
Final Words
For coffee lovers, getting out of bed without a coffee is like forcing themselves out of a grave, but these five types of tea can take care of that. Even if you drink them before going to bed, you will wake up refreshed and rejuvenated to start a new day.
And if you are a coffee lover and have experienced health issues with coffee, it is time to switch to some healthy options. The above-described teas will be an awesome replacement for your energy needs.
They will not only energize your body but will also provide your body with health benefits. So, no more heavy cups of coffee to stay focussed; just switch to these teas to satisfy your energy needs.
We're all about the tea here at The Tea Club.