Fruit Tea:
The Fruity Smoothie Everyone Is Sipping On This Summer
Enjoy This Hydrating Fruity Herbal Tea Guilt Free!
The Dollar Tea Club has always offered a great variety of fruit teas for our customers to fall in love with. This summer we've added a new loose fruit tea blend to our online shop and it's one that has all the right summer flavors. If you're looking for a new fruity tea to try, this is one you'll want to add to your cart before it sells out.
When summer arrives, it's incredibly important to stay hydrated. This Fruit Smoothie loose leaf tea is a great way to beat the heat when those temperatures rise. Drinking water all day long can be dull for the taste buds, but juice and sodas are full of sugar. This is why fruit tea loose leaf is such a hot seller in heat waves. People can enjoy a delicious tasting beverage without all the sugar and artificial colors/ flavors. 
Once you make an iced tea out of loose leaf fruit tea, you won't want to go back to drinking regular sweet tea. Fruit Smoothie is going to be one of our best teas yet for making the perfect batch of iced tea.
Fruit Loose Leaf Tea
A regular fruit smoothie can be a thick and filling beverage. It is basically a blended mixture of fruits with juice, milk, or yogurt. Of course, Fruit Smoothie tea isn't a thick beverage but it is inspired by the delicious flavors found in our favorite smoothie blends. The ingredients in this loose fruit tea are:
Hibiscus petals

Apple pieces

Orange

Banana

Cherry

Strawberry pieces

Rosehip
This is very similar to fruit punch, but without all the sugar and additives. If you enjoy a sweeter tasting tea, this loose leaf blend tastes amazing with a bit of honey. However, we suggest trying this tea without any additives, you may ruin the flavor if you add milk or lemon.
Hibiscus petals are one of the most popular ingredients for tea blends in the summertime. That is because they provide a delicious tea flavor while keeping the body hydrated. It's actually very common in many cultures across the world to take a hibiscus tea break to cool off. We decided to take this popular ingredient and add a fun fruity twist to it. 
This Tea Is Bananas!
This is one of the most exotic flavor profiles that we have ever introduced. Yet, it's so beautiful that you'll want to stock up on more as soon as you try your first sip. This is because it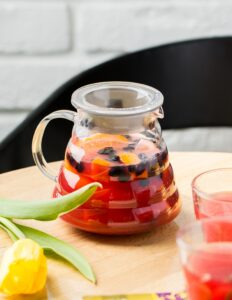 features all the wonderful things about fruity tea in one blend. The smooth banana chunks and sweet cherry bits tango with the other tarty fruit flavors, leaving your tastebuds begging for more.
Bananas are a rare ingredient to find in tea, but when they are placed with the right ingredients they have the potential to create a fruit loose leaf tea that is out of this world. Typically people add things like lemon or mint sprigs to garnish their teas and add a touch of flavor. Fruit Smoothie is a different blend and actually tastes better when you use maraschino cherries as a garnish.
Tea can be used to make homemade popsicles, so if you're looking to make treats for your kids this summer that don't contain heaping amounts of sugar, Fruit Smoothie tea is the right blend for you. One way to make your Fruit Smoothie popsicles more fun (and add more nutrients) is to cut up small pieces of your favorite fruits, and place them in the popsicle mold before pouring in the tea. 
Why Choose Fruity Teas?
Fruit Smoothie is one of the newest loose leaf blends added to our tea section. Why should you be selecting a fruity tea? Fruit tea is actually categorized as a herbal tea, which many people choose to drink if they are looking to cut back on their caffeine intake. Black tea and green tea are loved for the boost of energy they give off, but you shouldn't drink them all day long or you might be drinking too much caffeine. Herbal and fruit loose leaf teas still offer people a tasty sugar free option while remaining caffeine free. 
Too much caffeine could keep you up at night, which is something you won't have to worry about if you switch to filling up your cup with Fruit Smoothie tea. This one of a kind blend surpasses all the other smoothies you've ever tried.
Tips For Making The Perfect Cup Of Fruit Tea
Once you get a pouch of Fruit Smoothie loose leaf tea, you'll want to follow the right steps to make the perfect cup. Follow these directions to get it right everytime.
Turn your kettle on and heat the water up to 212 F (100 C). If your kettle doesn't have a thermometer attached, you can use an electric thermometer to test the temperature.

Measure out 1.5 tsp of loose leaf blend per every 8 ounces of water you plan to use to get the ideal flavor. 

Pour the water, and allow your tea to steep for 3 to 5 minutes. If you plan to pour the tea over ice, we recommend letting it steep for the entire 5 minutes. 
Final Thoughts:
When you're ready to introduce some summer flavors to your tea collection, you won't want to miss out on Fruit Smoothie. This herbal loose leaf tea is just as delicious as it is hydrating. It's so nice to have a tasty beverage to turn to this summer that isn't full of sugars and other unhealthy ingredients. This tea blend is one of the best ways to enjoy a mix of your favorite fruit flavors in one drink.