When it comes to buying makeup, it can get pricey. And not only that, but the products aren't always made from natural ingredients (or there are a million and one ingredients that you've never heard of!). We've gathered up several diy makeup recipes to help you create your own products using your favorite Dollar Tea Club blends – let's check them out!
Primer Water
Need an easy and all-natural way to prime your face? We've got you covered with this first recipe.
Ingredients
3 tablespoons glycerin
5 tablespoons witch hazel
7 tablespoons distilled water (or more)
1 tablespoon Sencha Organic
3 drops tea tree oil (optional)
This recipe is super easy to make! All you need are the ingredients and a spray bottle, which you can pick up at your local drugstore. We're modifying it slightly to incorporate one of our favorite blends, Sencha Organic. First things first, heat up your distilled water (on the stove or in the microwave) and steep Sencha Organic for 10 minutes. As that is steeping, add the witch hazel, glycerin, and the optional tea tree oil into your spray bottle. After you've strained your tea, add it to your mixture and voila! You're finished!
Spray this primer water onto your face before applying foundation or powders to stay moisturized and to keep your makeup looking fresh all day!
Lip Exfoliant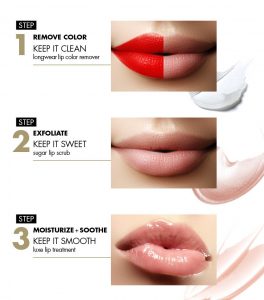 Getting ready to put on a matte liquid lipstick? Or maybe your lips are just chapped and you need a way to make them smooth again. This lip exfoliant is the way to go!
Ingredients
1 tablespoons dried ground Gunpowder
1 cup organic white sugar or brown sugar
1/2 cup extra virgin olive oil
2 tablespoons honey
10 drops lavender essential oil (optional)
To create this lip scrub, simply combine all your ingredients in a bowl and mix them together until you are satisfied with the consistency. Store in an airtight container and make sure to keep it in a cool, dark place.
When you're ready to use your lip scrub, simply take a small spoonful or dip your finger into the container and rub/massage the scrub into your lips to remove any dead or dry skin. Rinse off with water and you'll be prepped to apply any lipstick that you want! You can also use this recipe to exfoliate your body.
Cheek Stain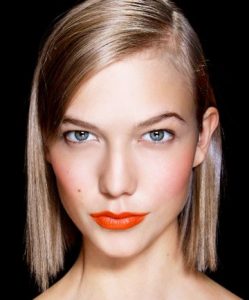 Looking for a natural flush to your cheeks? Look no further, because this DIY cheek stain will have you blushing all day – with only one ingredient!
Ingredients
2 tablespoons Blueberry Blast
3 tablespoons boiling water
Simply place your Rooibos blend in a small bowl or jar and pour the boiling water over it. Stir until your get your desired concentration of reddish-pink color.
To apply, dip a cotton ball or cotton round into your tea and blot it onto your cheeks. This looks best when worn on its own (without foundation) or with a bit of BB cream for a more natural, flushed look. When choosing a tea blend to use, make sure that it doesn't have any ingredients that will cause stickiness on your face, such as caramel pieces or sugary ingredients.
Setting Spray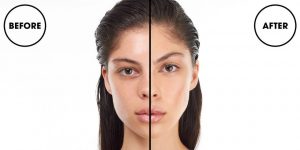 If you've never used a setting spray at the end of your makeup routine, you're missing out! This one is really easy to make at home and will keep your face looking fresh and natural throughout the day.
Ingredients
2 tablespoons Sencha Organic
2 tablespoons rose water
1-2 tablespoons glycerin or aloe vera gel
6 tablespoons distilled water
4 drops tea tree oil
2 drops lavender oil
Spray bottle
Start off by boiling one cup of water and steeping your Sencha Organic for 10-15 minutes. Once the tea is cool, add your tea tree oil, rose water, and lavender oil to the mixture. In a separate bowl or jar, combine your glycerin or aloe vera gel with your distilled water and mix together. Combine your tea mixture with your distilled water mixture and pour into a spray bottle and poof, you have a diy makeup recipe.
To use, simply shake your bottle to make sure all your ingredients are evenly mixed and spray all over your face as a final step in your makeup routine! If the droplets are big and your face is looking wet, we recommend patting the droplets into your skin using a makeup sponge. You can also carry this with you in a travel size spray bottle to refresh your makeup throughout the day!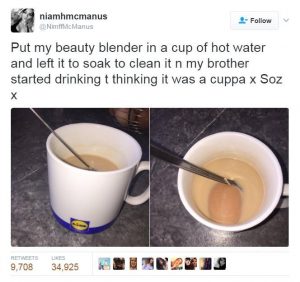 Use any (or all) of these recipes as all-natural alternatives to products that you might already have at home! And even better, drink a cup of green or Rooibos tea while you're applying your makeup for a great start to your day.
diy makeup recipes