Blueberry Blast: Your Favorite Tea This Summer
Blueberry Tea
Even though summer is heating up, one thing we refuse to do is put away our kettles. Green tea is one of the most refreshing beverages to wake up to on a hot summer morning. This season, we decided to bring back one of our classic blueberry green tea blends, Blueberry Blast. This fruity green tea has a pure and crisp flavor that gives you something to look forward to waking up to in the morning. 
Many people who don't enjoy the earthy flavor profiles of green tea might enjoy this sweet blueberry tea. The blueberries pieces add a touch of sweetness that mask vegetal notes of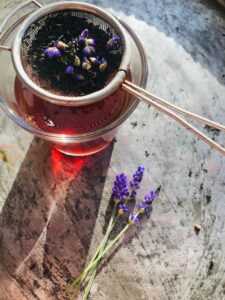 the green tea leaves. Once this loose leaf blueberry tea begins to steep, the aroma will remind you of a freshly baked blueberry pie. 
We Can't Get Enough Blueberry Blast Tea
It's not often that you come by a tea blend that could be considered a jack of all trades, but Blueberry Blast tea is definitely one of them. At the Dollar Tea Club, our master brewer is always trying to make the perfect blend and with this organic blueberry tea, they hit every note. One of the reasons why is because this fan favorite tea blend works well for many occasions.
Best Way To Start The Day
A lot of people start their mornings off with a hot beverage. While coffee and black tea seem to be the most common choices throughout the colder months, when it gets hot out people want to start their mornings off with something more refreshing. Green tea is a hydrating beverage that also has natural caffeine in it. That is why green tea with blueberry is such a hit in the summer.
Cool Off On A Hot Day
This tea is also one of our favorite blends to drink over ice. Once you make a round of this loose leaf green tea with blueberries in it iced with just a touch of honey, you'll never want to go back to drinking plain green tea again. Your iced blueberry green tea gets even better when you add frozen blueberries and a lemon wedge to it.
Dessert Time
When you sit down for dessert, you always want a drink that won't overpower your tastebuds. Many desserts are very sweet, which is why the earthy taste of green tea is such a popular choice of beverage to go with the dessert. This loose leaf blueberry tea also works its way onto the dessert table perfectly because it's sweet enough to compliment what you're eating, but not too sweet where the flavor overpowers.
Spiked Green Tea
Blueberry Blast tea can be enjoyed many ways, and you can definitely get creative with this blueberry green tea behind the bar. If you're looking for a new cocktail to enjoy that doesn't have a lot of sugar or artificial flavors, then this loose leaf green tea with blueberries is the perfect mix. 
While there are many different ways you can enjoy this cocktail, our top way to enjoy Blueberry Blast on a Friday night is to mix one half iced Blueberry Blast and one half lemonade
with a shot of vodka. The lemonade should be sweet enough, but if you need to sweeten the cocktail up a little more we recommend using one of our honey sticks.
The Taste Of Summer
Many people look forward to tasting the fresh fruit that grows each summer, especially when the berries are in season. Blueberries grow in abundance in Atlantic Canada, making the maritimes one of the top places to visit if you enjoy berry picking. While you may not be able to travel to Nova Scotia or Prince Edward Island every time you have a craving for blueberries, you can enjoy their flavors in your mug.
Blueberry is one of the milder berries to use in tea.  While the blueberry is full of delicious flavor, it is much milder than other berries. It's not as tarte or acidic as strawberries and raspberries are. This makes blueberry green tea a much smoother berry tea than other flavors. 
The green tea leaves and blueberries are mixed in with sunflower petals, apple pieces, calendula and other natural ingredients to create a flavor that works together in perfect harmony.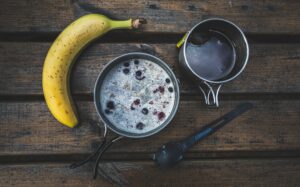 Imagine a beverage that tastes like fresh blueberry pie, but without all the sugar. That is what you can expect with Blueberry Blast tea.
How To Make The Perfect Cup Of Blueberry Tea
Want to make sure your Blueberry Blast tea tastes perfect every time? Make sure you heat the water to 176 F (80 C). Don't use water that is too hot or else you may burn the green tea leaves, which will ruin your tea's flavor. Mix 1.5 tsp of Blueberry Blast loose leaf tea with 8 oz of hot water. Allow your drink to steep for 2 to 3 minutes. 
That is all you need to do to make the perfect cup of tea. If you prefer to drink your blueberry green tea iced, we recommend steeping the tea for a couple of minutes longer because the ice will slightly water down the flavor. 
When this tea is served hot, it tastes perfect as is. However, when people drink it iced they often like to add a touch of sweetness with honey or garnishes, such as berries or lemon wedges. 
Final Thoughts
Are you ready to add a new beverage to your morning routine this summer? Blueberry Blast is one of the tastiest blueberry green teas you will ever try. It's not just a breakfast drink either. This green tea blend tastes great any time of the day. Whether it's served hot or cold, it is the perfect level of refreshing.
Next time you invite friends over for tea, make sure you fill their cups with Blueberry Blast. It's smooth balance of flavors is sure to make everyone's taste buds do a happy dance.